Main content starts here, tab to start navigating
Off the charts gourmet blissfulness
Come in and experience creative, unique, gourmet sandwiches like you never had before. We are a scratch kitchen - from our roasted meats all the way to our fermented sriracha. We have visited many local farms to procure the absolute finest quality of products to create our signature fare.
Fresh local ingredients
Roast is passionate about using fresh ingredients from North Carolina farms. Many restaurant's meats come from factory farms over 1000 miles away. This is terrible for the environment, cruel to animals, and does not make for a tasty meal. So join us in supporting the backbone of North Carolina, the local American farmer!
Drive - Thru Pick Up Window
Try the drive thru pick up window for "dine in a dash", which provides our guests the convenience of pre-ordering on our website.
Chef Bio
Chef Matt Delle has over 30 years experience in the restaurant industry. He is a graduate of Widener University, Scottsdale Culinary Institute - Le Cordon Bleu (AZ), The French Culinary Institute (NYC) and The Philadelphia Wine School. Matt's inspiration comes from always helping out his Mother and Grandmother in the kitchen as a young boy. He has cheffed in Western Europe, Latin America and throughout the U.S.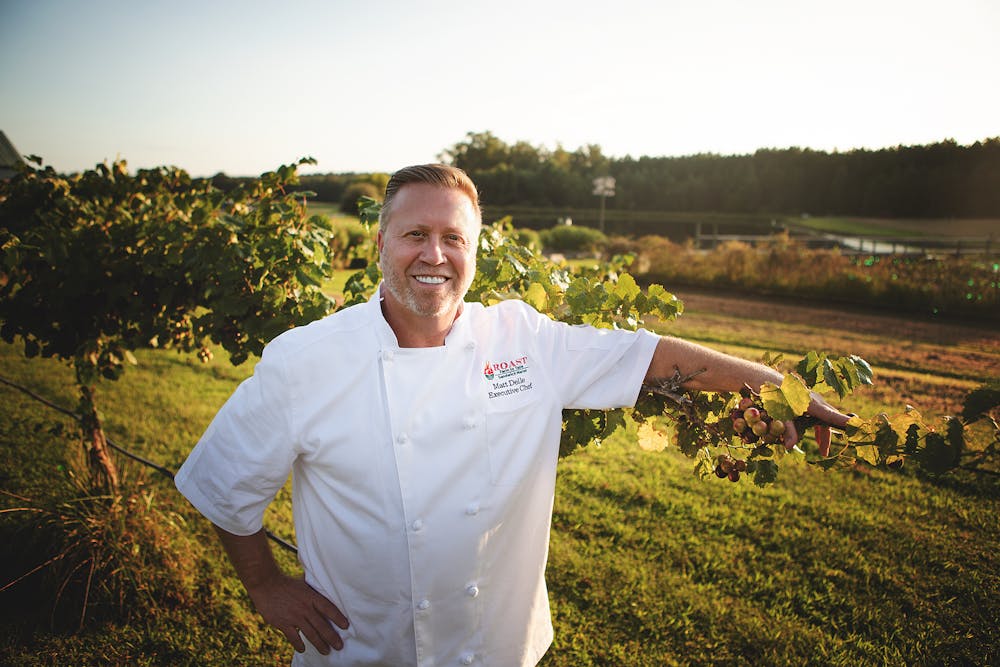 He has been featured in several media publications and has competed in a few competitions. In addition to holding the title of Executive Chef, Matt has several years experience in Front of the House operations as a General Manager, Food and Beverage Director and Operations Director. Matt is extremely passionate about providing five star hospitality and looks forward to serving the community.